ACHIEVEMENTS HAS BEEN GAINED IN THE RECENT YEARS
The Faculty of Automotive Engineering Technology creates regularly students to participate in national and international professional skills competitions and has many students achieving high prizes. In particular, in the automotive technology skills tests, the Faculty has had 3 students who won the first, second and third prizes at the National level, and 1 student won the ASEAN Gold Medal (2004). Annually, the Faculty also organizes students to design and participate in competitions of energy-saving cars in the nation and the world. Students of the Faculty regularly participate in the activities of physical and sports training and have won the second and third prizes in the whole team during the whole sports festival in many years.
Competition in 2012
In 2012, the first time that the student of the FAET at Industrial University of Hochiminh City attended the Shell Eco – Marathon fuel saving designing, manufacturing and driving competition.
In March 2012, the competition took place in Malaysia; the FAET attended the competition with 2 genres of Prototype vehicles (3 wheels) using gasoline fuel. The performance of the two teams got in the competition in Malaysia is approximately 180 Km / 1 liter of gasoline.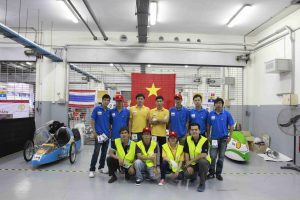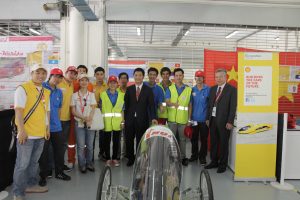 Competition in 2014
Coming to the Shell Eco – Marathon 2014, the FAET at IUH sent a product belonged to a genre of Urban Concept car (4 wheels) using Diesel fuel and 1genre of Prototype car (3 wheels) use gasoline fuel.
At this competition, it was a pity that only one Prototype type car completed the round with the achievement of nearly 170 km / 1 liter of gasoline, and the 4-wheel diesel car after passing the technical round had a technical problem on the track, thus, the effort was not be accepted.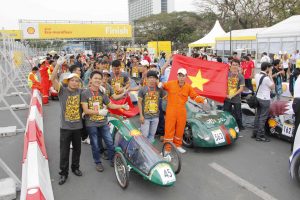 In 2015, at the Philippines again, the FAET participated in the competition with 2 cars, one 3-wheel vehicle and one 4-wheel vehicle. At this test, the whole group experienced extremely difficult times in the technical inspection process of the vehicle when there was a lack of safety requirements _ the hand brake system. However, finally, with tireless efforts and determined to try to come to the team together that made up the handbrake system in need and had passed the technical test. It was an unforgettable moment for the team.
Competition in 2017
In 2017, the Shell Eco – Marathon competition will be held in Singapore from March 16 to March 19, 2017. This year, the FAET participates in the competition with an Urban Concept (4-wheel) vehicle using gasoline fuel.
The car manufacturing process took place from November 2016. With the experience gained in previous competitions, the team has completed the car in a convenient way, less strenuous.
The fabrication and preparation process has been completed, the car has been sent to Singapore from February 13, 2017, the group departed on March 15, 2017.